This website editor is Hiroshima Hibakusha(Atomic Bomb Survivor)


https://en.softonic.com/download/mozilla-firefox/windows/post-download
https://www.google.com/?&bih=635&biw=1366&client=firefox-b-d&hl=en-US
Far the left photo is the present head office of Hiroshima Dentetsu Inc. head office while far the right ones are ones at the time of Hiroshima Pikadon(The atomic bomb drop), where I was working as a Mobilized Student Workers during the War for manpower shortage. The Second is the company's Badge, which has a story... One of the painting workers in the company factory took part in the contest and Got the First prize! The episode is my boss then, the head of the Electricity Department, whose name I happened to forget now got the third or fourth prize, and he gave the all prize money to our class! I recall he later year established his own company. The Third is one of the symbolic places in Hiroshima City, Kamiya-town Cross Point. I have a sad memory there; I and Dad and one of the three sisters happened to pass it through with me on the bicycle with Daddy pushing and one of the three elder sisters on the way to our Aunt's home for evacuation. We saw and witnessed a completely burned black person photo laying down on the step with head down...!! Far the right photo makes me think of that awful sight...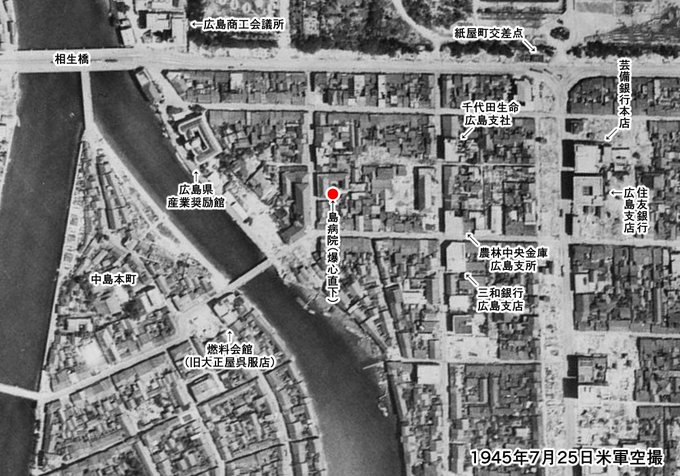 When you click "Yuuki Yoshida, boyhood age, A-bomb suffering life experiences and photos concerned" you could see some of the awful photos though with Japanese explanations only.....
                        Since 10th March 2001
    Wednesday, October 28, 2020, Japanese
This day of October 28, the Editor of this website, Yuuki Yoshida, has come 88-year-old, which in Japan, is called "Kiju(喜寿)", though, in the true sense of the Japanese tradition, the birth year is counted with New Year, beginning January 1, which makes the personal difference of 11-month. However, I follow in a western way of counting his or her age with the Birthday. Do I make myself understood to the English speaking visitors....? Ha, ha.
By the way, among my writing records, I have one continuing on and on as if the writer becomes to die! (Laugh). If edited in the form of books, it would be more than a dozen!! My file writing is supposed to be my Autobiography under the Japanese title of ♪Life Is Interesting With This and That to the Fifth Stage!♪. The Writer's ambition is and would be editing it in English and that until I die old!! Ha,ha...


(Above left 4-line-of-photo is the one while in Japan, and the right 3 is the ones in the Philippines. The below four photo show my present residence village gate and location maps.)
    

April 21: "900–The Laguna Copperplate Inscription (the earliest known written document found in what is now the Philippines)"
The followings are some of my life stories in the form of Photos. The Editor would be happy if the English visitors click them to enjoy watching the photos concerned...★"Writing record column" is it. Although this Editor is now too busy to have them with English translation, the visitors could imagine what the Editor means to tell with the photos."Yoshida in boyhood photos concerning a-bomb experiences" Editing. Others are"August 6, 1945:Photos of Hiroshima A-bomb-No.1 and "No.2"
Note:The followings are the ones this Editor desires the English-language visitors to try and read......
"A-bomb survivor testimony based on the three viewpoints" "(Open letter) Dear Mr. President Obama"
"Atomic bomb survivor credits desire to learn for living 'four lives'" (The JAPAN Times, August 4, 2012)
"Calabarzon Breaking News" "A-bomb and Me" "The mission for Hibakushas --Needs for building consensus for the Reconciliation between the a-bomb dropper and the sufferers" "An episode about Yoshida and Mrs. Ann Adams, polio artist" "http://www.a-bombsurvivor.com/contents/article/us-o-o-articles15.html(1993, a-month-investigation-trip to the United States, newspaper articles in Japanese with many photos)"
  "Philippinos are rich in the heart even in poverty"
https://calabarzonbreakingnews.webnode.com/news/filipinos-are-rich-in-the-heart-even-in-poverty/
960px